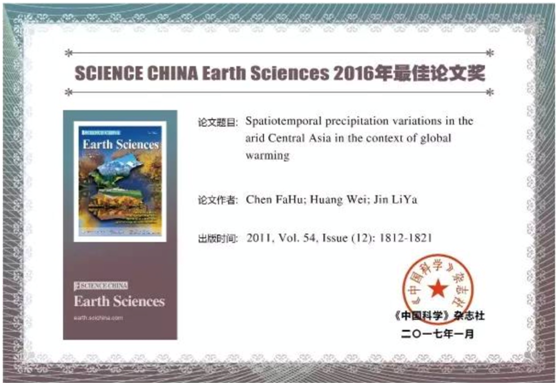 Recently, the editorial committee of SCIENCE CHINA: Earth Sciences selected "Best Theses" and "Hot Theses" from works that were published during 2011 to 2015 on SCIENCE CHINA:Earth Sciences (English Edition). "Spatiotemporal precipitation variations in the arid Central Asia in the context of global warming" published by academician Chen Fahu, Doctor Huang Wei et al. in 2011 won the only first prize of the ten "Best Theses".
Against the circumstance of global warming at large, regional response disparity study of hydrologic cycle and precipitation change has been a hot topic and cutting edge issue in the field of geosciences for a long time. However, existing studes of this kind are almost targeted at the arid area of northwest China, but the systemic research of rainfall variability and internal response diversity of Central Asia arid zone remains a blank waiting to be filled.
The thesis mentioned above is another important breakthrough made by Prof. Chen's research group in spatial pattern of precipitation in modern measurement period apart from Holocene "West Wind Model" theoretical framework, harboring great value in deepening the understanding of the regional response of global warming made by hydrologic cycle and precipitation change in arid areas. Currently the thesis has been cited for 60 times.
Click here to see the thesis mentioned here
(Translated by Zhang Lu; proofread by Xing Tingting)