The 17th Asian Conference on Clinical Pharmacy (ACCP) was held in Yogyakarta, Indonesia from July 28th to 31th. The conference, hosted by Universitas Airlangga and organized by Indonesian Pharmacist Association, is an international conference on the normalization and standardization of clinical pharmacy practice. About 30 international prestigious experts in relevant areas who come from 13 countries like China, America and Canada were invited to the conference and made plenary lectures on clinical pharmacy research, current development and future development trend.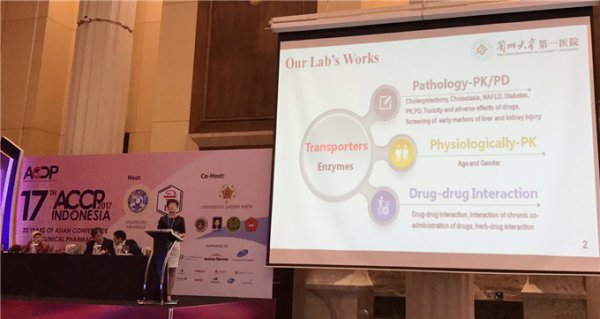 At the invitation of the organizing committee, appointed by Professor Wu Xin'an from Pharmacy Department of the First Hospital of LZU, senior pharmacist Zhang Fan made a thirty-minute address on "the change of transporter and metabolic enzymes in different physiological conditions and their mediated pharmacokinetics and drug interactions" at the conference. Senior pharmacist Kou Wen gave a speech with posters themed on "the retrospective analysis of renal toxicity incidence rate influenced by the antagonist combined with cisplatin and 5-HT3 receptor."
Nine abstracts from the Pharmacy Department of the First Hospital of LZU were accepted during the conference. The First Hospital of LZU is one of hospitals with highest submission number and highest acceptance rate.
In addition, participating pharmacists from the First Hospital of LZU and other participating representatives of Chinese Pharmaceutical Association of hospital pharmacy put on a Cheongsam Show with Chinese characteristics, which showed the elegant demeanour of Chinese pharmacists and promoted the exchange between the representatives from different countries.
(Translated by Li Xingyi; proofread by Zhang Yina)