On November 20th, Prof. Enrico Drioli, chairman of Italy Membrane Technology Academy, along with Prof. Lidietta Giorno, the founder of the Institute visited LZU. Vice Pres. An Lizhe met the delegation in the VIP room of Science Museum. The people in charge from Gansu Membrane Science Academy, LZU Division of International Cooperation and Exchange, School of Life Science, accompanied the meeting.
An Lizhe welcomed the delegate led by Pro. Drioli, and introduced the history, dominant subjects and other basic information of LZU. He stated that LZU was selected into "Double First-rate" list and located in the important city node of "One Belt and One Road ", which created new opportunities for its advancement. Taking B&R Initiative as a springboard, focusing on the construction of world-class universities and disciplines, LZU provided a platform for the construction of ecology, agronomy, chemistry, medicine and other advantageous disciplines. In addition, it intended to cooperate with Italy Membrane Technology Academy in the field of personnel exchange, talents training and joint research.
Drioli and Giorno indicated that Italy Membrane Technology Academy has carried out a good cooperation with LZU, and they hoped to expand new cooperation areas with us on the basis of existing ones, so as to promote bilateral scientific research cooperation and personnel exchanges in related fields. They also introduced the international joint training program of doctoral candidates, supported by the European Union and the Italy government, hoping to take this opportunity to jointly improve the international level of talents training with LZU.
After the meeting, Lanzhou University, Italy Membrane Technology Academy, and Gansu Membrane Science Academy signed the tripartite agreement.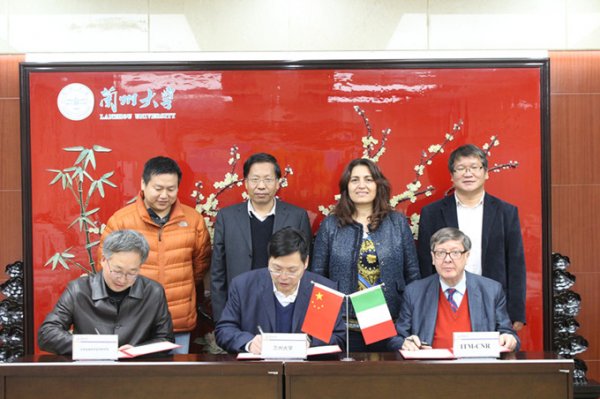 (Translated by Ren Yanyang; proofread by Yang Fan)