On February 8th, Ministry of Education, China officially published the list of projects that win 2017 Outstanding Achievement Award (Science and Technology) for scientific research of colleges and universities. The project "The Interaction between Human and Environment in the Gansu and Qianghai Area during the Prehistorical Period and the Prosess and Mechanism of Human's Settlement in Qinghai-Tibet Plateau" conducted by the team of Chen Fahu, from the College of Earth Environmental Sciences of LZU, won the first prize of Natural Science Award for scientific research of colleges and universities.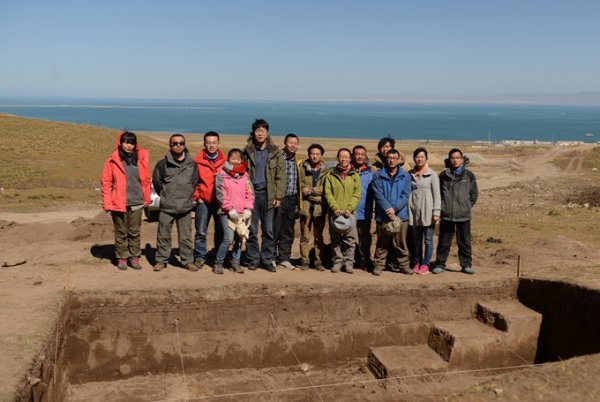 Archaeological team led by academician Chen Fahu carring out archaeological excavation at 151 site in Qinghai
The project, based on the team's long-term research on environmental archaeology and environmental change of the Qinghai-Tibet Plateau and the western part of the Loess Plateau, has got the following achievements in three aspects: first, it clarified the spatial and temporal process of culture diffusion from low-altitude western region of the Loess Plateau to high-altitude Qinghai -Tibet Plateau in prehistoric times and proposed the "three steps" mode of prehistoric humans to move in the Qinghai-Tibet Plateau; second, it found the process of development and spread of agriculture in the west of Loess Plateau and in the northeast of Qinghai-Tibet Plateau and revealed that the wheat agricultural development and spread is the main driving force for prehistoric humans to permanently settle in Tibetan Plateau in large-scale; third, it recreated the environmental background of culture development and population diffusion and climate change process in Gansu-Qinghai area during Neolithic and Bronze Age , providing a new model for understanding human environment interaction in long-time scale.
Based on the above research, the team has made a series of high-level research achievements, mainly published in Science, PNAS, QSR, JAS, Chinese science and Earth Sciences, Science Bulletin and other well-known academic journals, which has had a wide impact on academic circles both at home and abroad. LZU remains the only institute to finish the project.
(Translated by Zhang Yuyuan; proofread by Sun Lianyue)