LZU's postgraduate education began in 1954. From 1954 to 1968, LZU trained a total of 68 postgraduate students. It was only until 1978 that postgraduate education at LZU was restored. After the implementation of the national degree system in 1981, with the approval of the State Council, LZU became the first group of institutions to confer doctoral and master's degrees. Since then, LZU's postgraduate education has entered a new track of healthy development. In June 2000, the Ministry of Education (MOE) approved the trial-run of the postgraduate school of LZU. In May 2004, MOE officially authorized the establishment of LZU's postgraduate school. In 2010, LZU became one of the 58 degree-granting institutes with the autonomous power of establishing first-level disciplines for both doctoral and master's degrees.
There are now 535 doctoral supervisors and 1,668 master's supervisors at LZU. Among them, 15 are academicians serving at the Chinese Academy of Science or/and the Chinese Academy of Engineering, 11 are distinguished visiting professors listed in the "One Thousand Talents Program", 10 are leading talents listed in the "Ten-Thousand Talents Program", and 18 are distinguished visiting professors listed in the "Yangtze River Scholars Program" of MOE.
The faculty also include 19 awardees of the China National Funds for Distinguished Young Scientists, 12 national candidates for the "Millions of Talents Program," six leading scientific and technological talents listed in the "Innovative Talent Promotion Plan," and four awardees of the "Excellent Teaching Award of Higher Education" of MOE.
There are also six young scholars from the youth project of the "One Thousand Talent Program," five young scholars from the outstanding youth project of the "Ten-Thousand Talents Program," and four awardees of the young scholars' program of the "Yangtze River Scholar Program" of MOE.
Twenty-one scholars of LZU have gained research sponsorship from China National Funds for Excellent Young Scientists. Besides, there are 129 awardees of the "New (Cross) Century Excellent Talents Program", 27 awardees of "Famous Teachers of Higher Education" of Gansu province, 88 awardees of "Leading Talents of Gansu", four innovative research groups funded by the National Natural Science Foundation, and 8 innovation teams directly supported by MOE. There are also seven talent-cultivation bases and five national-level teaching teams at LZU.
LZU boasts a complete range of disciplines with distinctive characteristics. It now covers 12 mother-disciplines, 23 1st-level doctoral disciplines, 45 1st-level master's disciplines, one category of the doctoral degree, 18 categories of the master's degree, and 19 post-doctoral research stations. During the third round of disciplinary assessment conducted by MOE in 2012, six disciplines of LZU entered China's top 10, with grassland science ranking the first in the country. Eleven disciplines also joined the top 30% in the ranking. In March 2016, 12 of LZU's disciplines entered the top 1% of ESI globally, among which chemical science was included in the first one-thousandth of ESI globally. In 2017, in the fourth round of national assessment, the first-level discipline of grassland science was rated A+, and the ecology was rated A.
LZU initiated postgraduate education from scratch, especially given the unfavorable natural environment and underdeveloped situation of the region where it is located. However, with unremitting efforts and endurance, LZU has explored a unique model of building a comprehensive, research-oriented and high-level postgraduate education by wisely coordinating its educational scale with strategic development. It has established a comprehensive and complete postgraduate training system that nurtures innumerable talents for the country. There are now 14,143 postgraduate students at LZU, including 2,559 doctoral students, 10,572 graduate students, and 1,012 non-degree graduate students.
It is worth mentioning that postgraduate students of LZU have performed extremely well in their thesis process. A total of 8 doctoral theses were awarded "National Outstanding Doctoral Dissertations," and 18 were brought into the nomination. Since 2014, 29 doctoral theses were awarded "Excellent Doctoral Dissertations" in Gansu Province, 51 master's theses were awarded "Excellent Master's Dissertations" in Gansu province. Besides, 20 doctoral candidates have won the Innovative New Scholar's Award of MOE. According to incomplete statistics, 11 graduate alumni now serve as academicians of the two academies.
LZU adheres to the core value of comprehensively improving the quality of high-level education and strives to create an academic atmosphere that advocates excellence and innovation. By launching the LZU Scholars' Forum and the annual postgraduate academic forum, LZU succeeded in building a platform stimulating academic exchange, innovation, and inspiration. Such an academic environment has boosted LZU's ranking among Chinese universities regarding "innovative postgraduate research."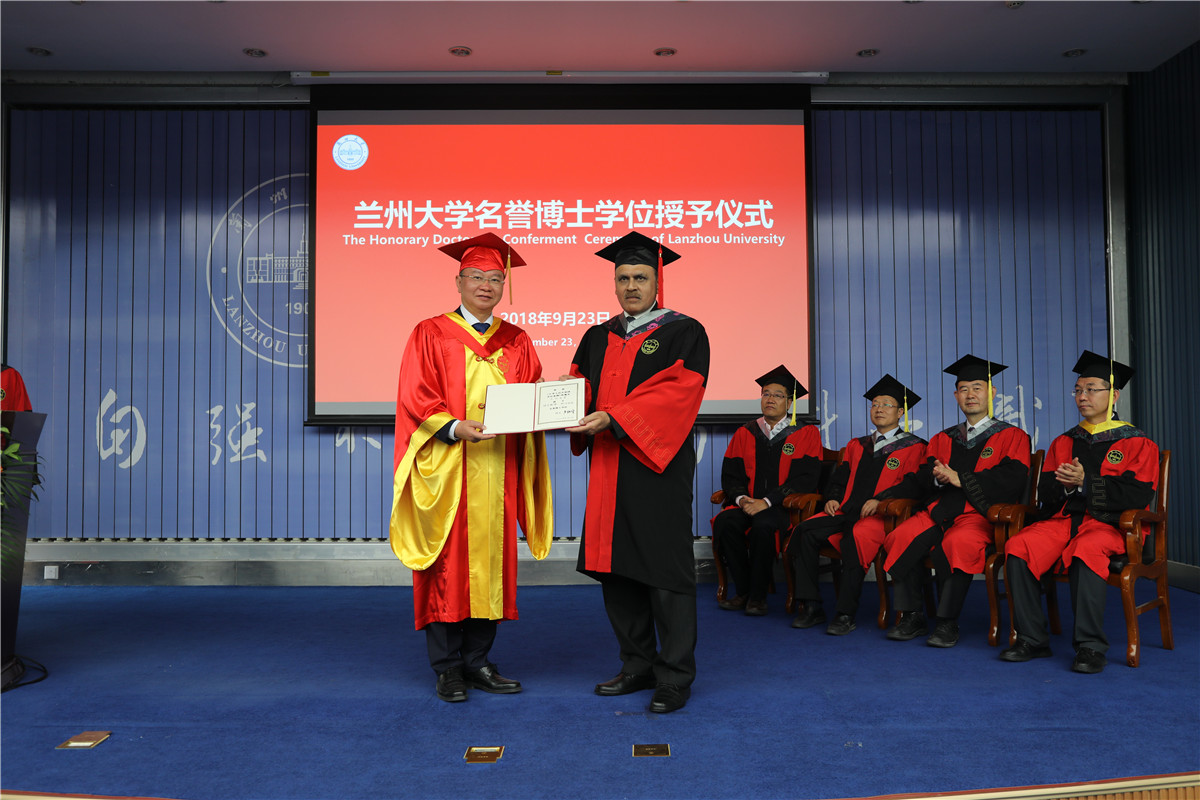 LZU encourages international exchanges and cooperation. It has established academic exchanges with 147 universities and research institutions in 34 countries and regions, including the United States, Japan, United Kingdom, France, Canada, Germany, and Australia. More than 1,300 foreign experts and scholars have been invited for academic visits and lectures. LZU also sets up special funds to encourage and fund outstanding postgraduate students to attend high-level international academic conferences and short-term international workshops, to broaden their global vision and improve the portfolio of postgraduate education.
LZU is exceptionally concerned about the quality of postgraduate supervision and evaluation of results. Via exploration and practice, it has improved the quality and management of postgraduate education, standardized the training process of degree graduates, and strengthened its self-assessment of degree authorization.
In a word, LZU's postgraduate education have achieved remarkable results. Standing at a new historical starting point, LZU is ready to reinforce its postgraduate education on its way to building itself into a first-class university with first-class disciplines. It will uphold its motto, "To strive unremittingly, to stand out." Driven by its commitment to the community and the society, LZU will devote itself to the improvement of postgraduate educational quality, to the intensification of reform, and the advancement of innovation for a shared future for all.
(Data presented in this page is accurate as of November 2, 2018.)