Social Services
With a focus on fostering integrity and social responsibility among students, LZU has incorporated social work into student assessment by providing platforms for them to practice. In the past five years, 2,970 social work teams were set up by more than 33,000 students. They donated over 7,000 articles of daily necessity and 1.2 million RMB to more than 28,000 people in poverty-stricken areas. For example, during such social activities as the San Xia Xiang Program (to transfer advanced culture, technology and medicine to countryside areas) and the Zhi Xing Program (put knowledge into practice), LZU students have gained 62 state-level and 1 19 provincial-level awards. In 2017, LZU set up 112 Belt & Road social work teams for students to conduct field research on the social and material well-being of people, as well as 17 students field research teams on the economic development of counties in Gansu. LZU has been awarded the title "Excellent Organizer of San Xia Xiang Summer Practice" for several consecutive years. Students' summer social work was also covered by China Youth Daily in recognition of their contribution to the less developed regions of China's west.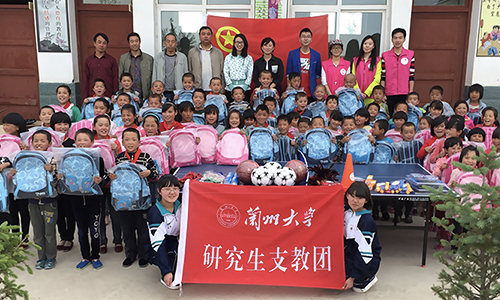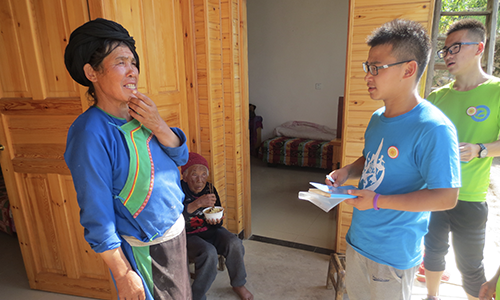 Voluntary Service
By adhering to the spirit of "devotion, friendliness, mutual help, and progress", the young volunteers of LZU have initiated different types of activities in western China, such as volunteer teaching, environmental protection, and providing care to the disabled and elderly.
Currently, 113 volunteer service bases, 157 volunteer programs, and 131 professional volunteer teams have been set up at LZU. More than 2,400 times of volunteer services have been provided by LZU students to 30 communities in Lanzhou and 38 illages in Yuzhong county. More than 53,000 student participants have attended the programs and devoted over 34,000 hours of service. LZU volunteer programs are now further extended to other 10 cities and prefectures in Gansu such as Zhangye, Wuwei, Tianshui, Linxia, and Longnan. During the National Volunteer Service Contest, LZU contestants have achieved one gold award, six silver awards, two bronze awards, as well as the nomination of the Demonstration Program. Two LZU students, Qu Siyu and Zhang Shuhao, were awardees of the 10" and 11" National Outstanding Young Volunteer Award respectively.In 2015, the MOE (Ministry of Education) Briefing on Strengthening ldeological and Political Education of University Students, included a feature report titled 'The volunteer teacher group of Lanzhou University actively put socialist core values into practice' to introduce the LZU student volunteer teachers. The report was also published by People's Daily and other mainstream media. In 2016, the LZU student volunteer teaching team was acclaimed as one of the ten Most Beautiful Volunteer Teacher Groups in China.