The ceremony of signing comprehensive strategic cooperation framework agreement between Lanzhou University and Beijing Normal University was held in the first meeting room of Jingshi Building in Beijing Normal University(BNU) on January 2, 2019. Cheng Jianping, Secretary of BNU CPC Committee, and Dong Qi, President of BNU, attended the ceremony with the attendance of the counterparts from LZU, they are Yuan Zhanting and Yan Chunhua, accompanied by Wu Guosheng, Executive Vice Secretary of LZU CPC Committee, Xu Shengcheng and Pan Baotian, Vice Presidents of LZU. The ceremony was presided by Hao Fanghua, Vice President of BNU.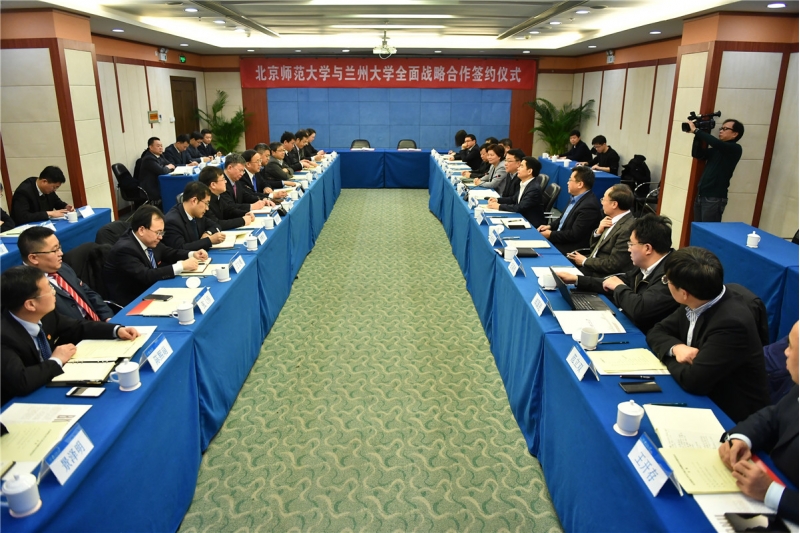 Cheng Jianping pointed out that LZU and BNU shared a long history of friendship. LZU had sent a batch of excellent graduates to BNU and many of are leading experts in BNU. At the same time, the two universities have conducted a lot of cooperative activities as partner assistance institutions to Qinghai Normal University.
Yan Chunhua said that LZU attached great importance to the cooperation with BNU and had been actively planning for the cooperation to promote the bilateral relations. LZU, centering on the construction of the Double First-Class initiative, proposed the discipline development strategy of "reviving humanities and liberal arts, promoting the natural sciences, while deepen engineerings, agricultural and medical subjects". He hoped that the two sides could strengthen cooperation in the great scientific fields, like Tibetan Plateau scientific field research, environment protection of the source of Yellow River, Yangtze River and Lantsang River.
Dong Qi said the cooperation between the two sides is mutual supplement to each other and a big event for both sides. He hoped that two universities could put the cooperative items in the agreement into practice through the establishment of the relationship.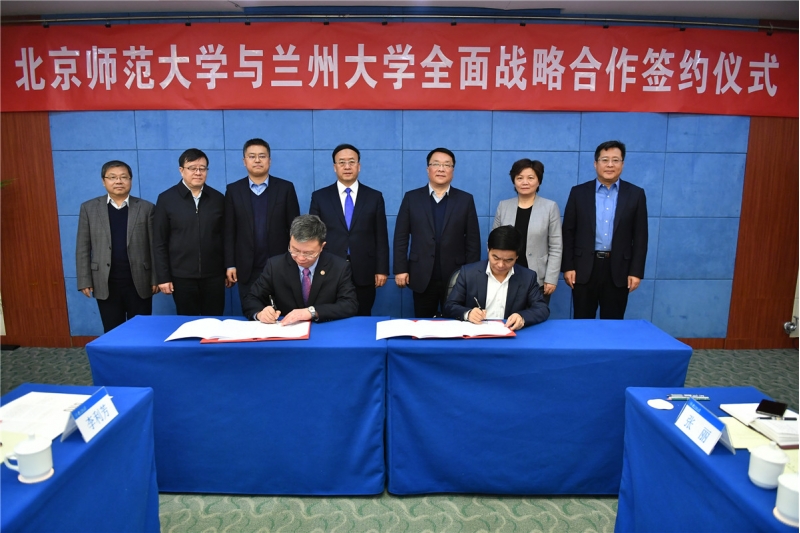 During the meeting, Yan Chunhua and Dongqi signed Comprehensive Strategic Cooperation Framework Agreement between BNU and LZU. Besides, Pan Baotian and Qu Hao, President of Educational Group of BNU, signed the Agreement on jointly building Lanzhou University Affiliated School between BNU and LZU. According to the agreement, the two sides will deepen cooperation in disciplinary construction, talent exchange, student cultivation, scientific research, fundamental education and partner assistance program.
Yuan Zhanting noted that the cooperation between LZU and BNU is based on history, reality, strategy and long-term developments.
(Translated by Sun Lianyue; proofread by Zhang Yuyuan; edited by Tanbai)