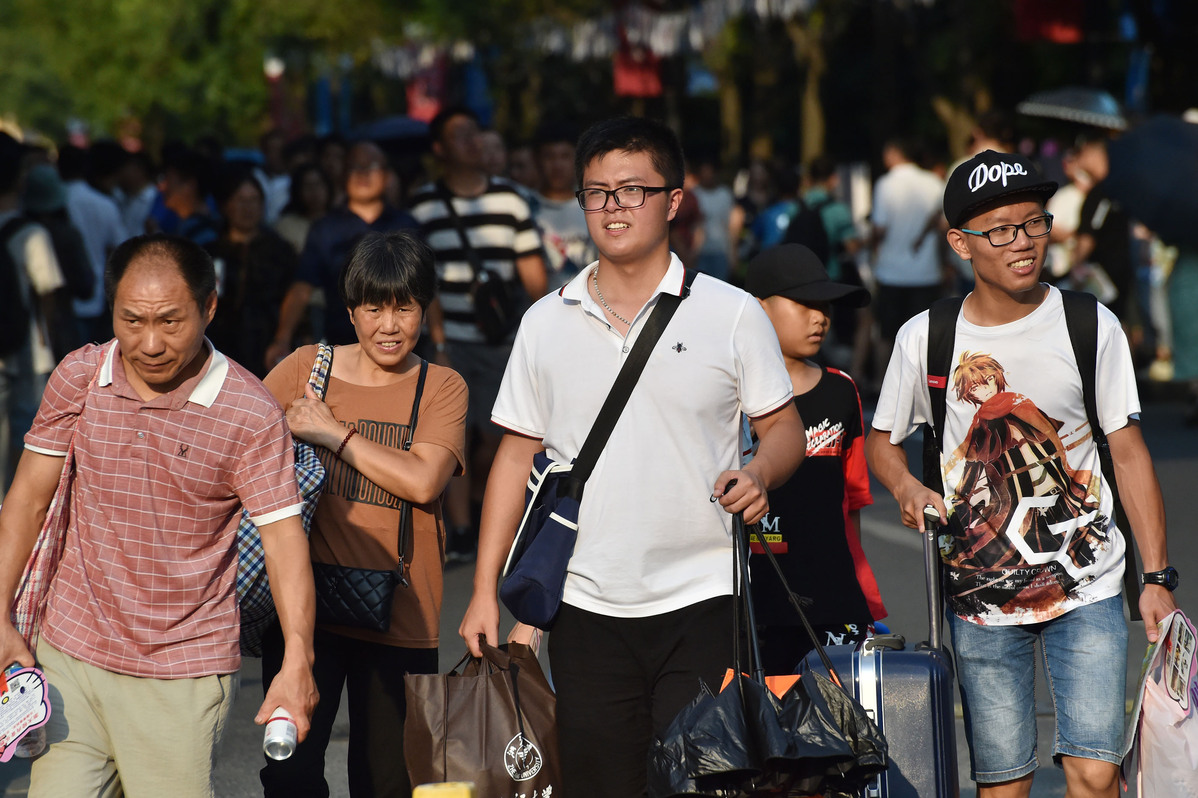 New students arrive at Zhejiang University on Aug 16, accompanied by their parents. About 10 percent of the more-than 6,000 freshmen at the school have received financial aid from the State.PAN HAISONG/FOR CHINA DAILY
Authorities honor vow that poverty will not force people to drop out of school. Zou Shuo reports from Lanzhou.
Born into a "dirt poor" family in a small village in mountainous Beichuan Qiang autonomous county, Sichuan province, Duan Zhixiu never imagined she would have the opportunity to go to university.
"Since I was a little girl, my parents told me they were willing to sell everything in the house to send me to a good university, but I knew that even if they sold everything, it would still not be enough," she said.
Duan's parents are farmers, and they had difficulty paying her tuition fees from primary school onward.
Beichuan, which was only removed from a national list of impoverished counties last year, was one of the places most severely hit by the magnitude 8 earthquake that struck Wenchuan, about 120 kilometers from the county, in 2008. Duan lost a leg in the disaster.
After the quake, her family became even poorer, and she could only resume her studies thanks to government assistance that meant she was given a monthly subsidy of 300 yuan ($44) and did not have to pay tuition fees.
The 27-year-old is one of millions of students in China who have received financial aid from the government to help them climb as far up the education ladder as they wish.
In 2007, the country established a national financial aid system for impoverished college students, higher-level vocational students and secondary vocational students.
Meanwhile in 2011, with support from schools, public donations and greater official investment, a government-led financial aid system was established for students from preschool to postgraduate-level education.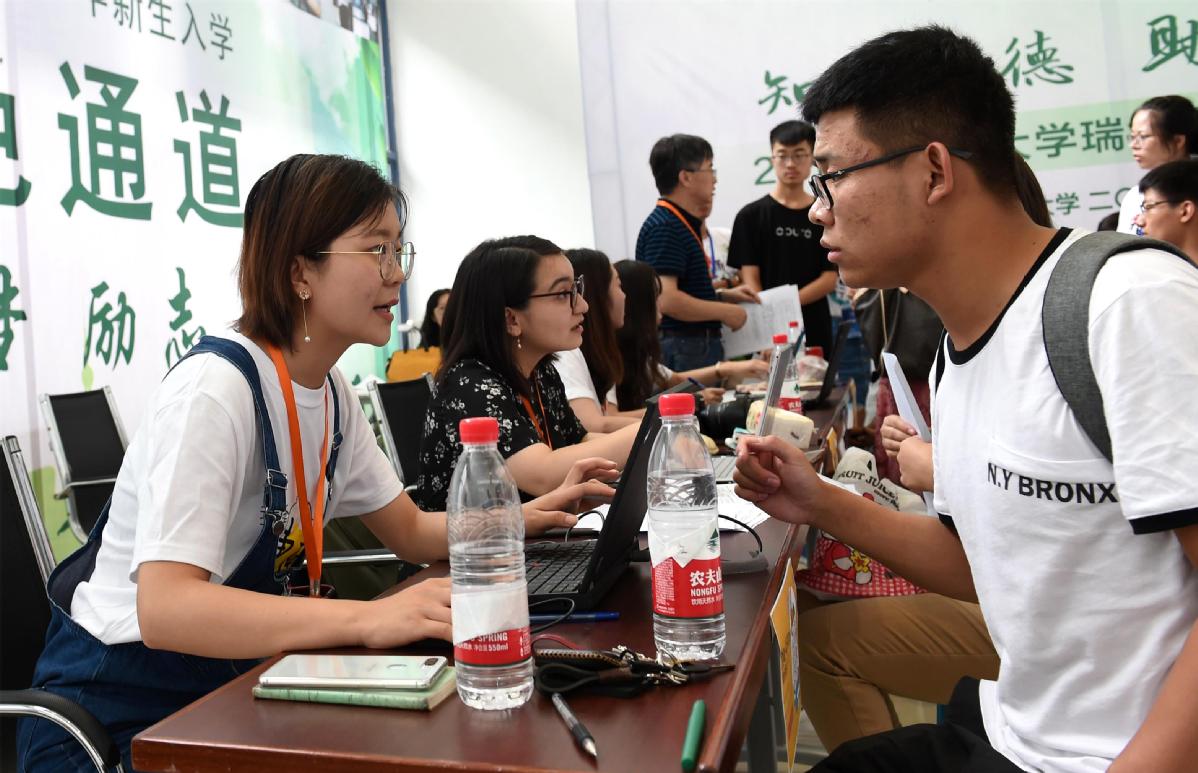 Senior students explain enrollment procedures for impoverished students via the "green channel" at Southeast University in Nanjing, Jiangsu province, last year.SUN CAN/XINHUA
Pledge
The move was in response to a 2009 government pledge to "not let any student drop out of school because of financial difficulties".
From 2012 to last year, more than 1 trillion yuan was allocated in total to 620 million students, according to the Ministry of Education.
Ma Jianbin, deputy director of the National Center for Student Financial Aid, said the State assisted 135 million students from preschool education to higher education last year.
Financial aid for students rose for the 12th consecutive year, reaching 204.3 billion yuan, 8.5 percent higher than in 2017, he said.
Moreover, all students in the nine-year compulsory education system that ranges from primary school to junior high school were exempted from tuition fees and provided with free textbooks.
Nearly 44 million college students received a total of 115 billion yuan in financial aid last year, a rise of 9.48 percent from 2017.
A multifaceted aid program has been established for college students, which includes national scholarships, grants and interest-free loans, school scholarships and grants, subsidies for students from impoverished families, meal subsidies, tuition fee reductions and exemptions.
Meanwhile, a "green channel" has been established, which allows freshmen to register at colleges or universities even if they are unable to pay their tuition fees in full.
Duan was one of the beneficiaries of the financial aid system for university students. In 2012, when she enrolled at Lanzhou University in the capital of Gansu province, one of the best universities in West China, the school exempted her four-year tuition and dormitory fees, and also provided her with a separate dormitory.
"I also received a monthly subsidy of 1,000 yuan from a social welfare organization, which meant I did not have to ask my parents for any money during my four years of college," Duan said.
She later enrolled as a postgraduate student at the university. When she graduated in June, she found a job as a student counselor at a university in Chengdu, capital of Sichuan province.
"I want to help more students in need to realize their dreams, just as I have," she said.
Yan Chunhua, president of Lanzhou University, said that as one of the key universities in West China, half of its students come from rural areas, 30 percent from impoverished families and 11 percent are members of ethnic groups.
"We have made it one of our top priorities to ensure that students from ethnic groups in impoverished, rural areas, and students from the western regions will not drop out of school because of poverty," Yan said.
Since 2012, the university has provided financial aid to 94,000 undergraduates and more than 120,000 postgraduates, with the total sum reaching almost 1.4 billion yuan, he said.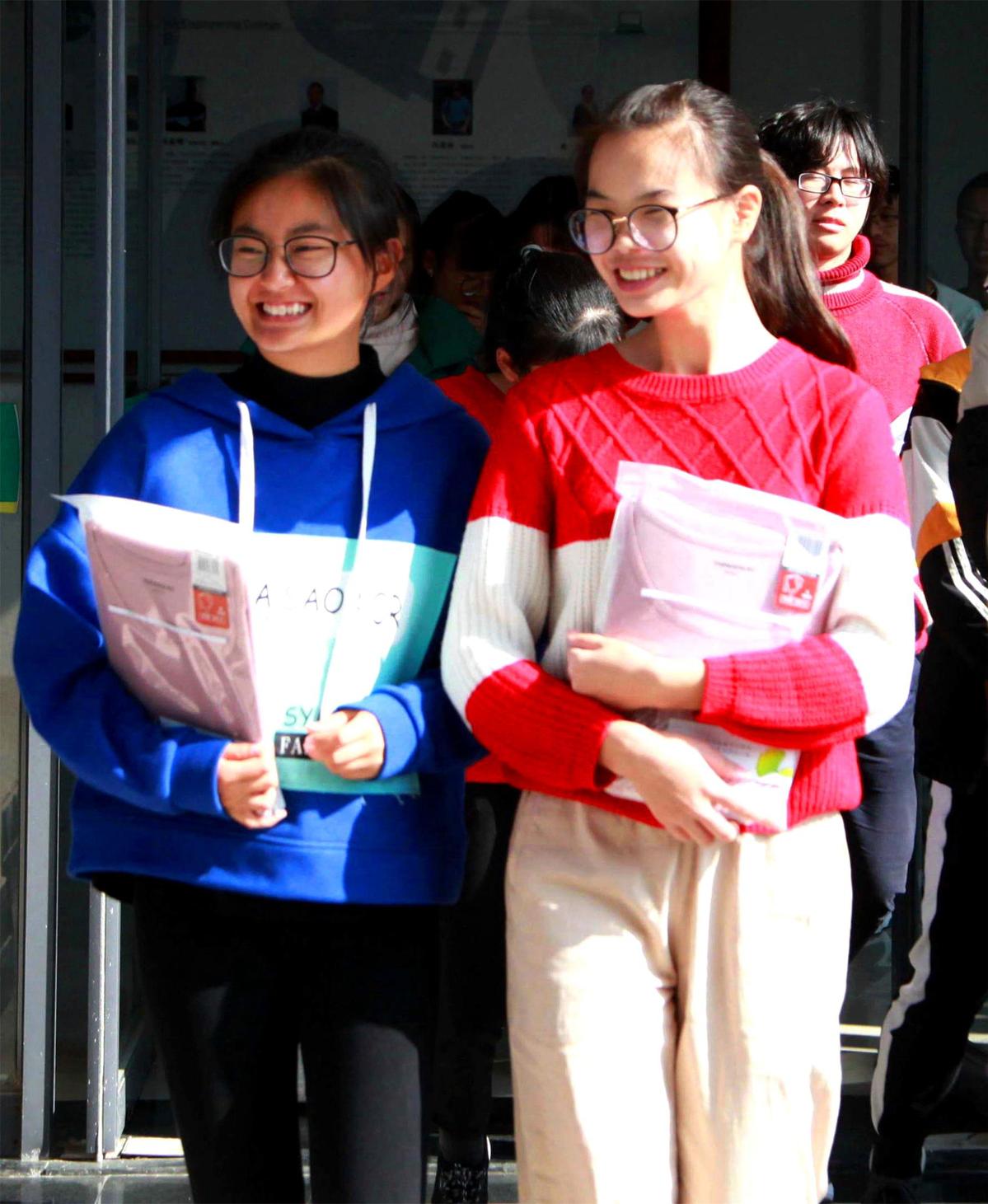 Undergraduates receive winter supplies at a university in Zhejiang province in December.CHEN SHENGWEI/FOR CHINA DAILY
'Smiling angel'
Tang Xiangong is regarded as a "smiling angel" at Lanzhou University, because his big smile inspires his classmates to persevere in the face of adversity.
Tang, who has cerebral palsy as a result of a lack of oxygen to the brain during birth, has also received financial aid from the university.
His parents are farmers in a village in Henan province, and their financial situation has worsened as Tang's medical bills have increased.
To help ease the burden, the school has exempted Tang's tuition fees. The 20-year-old also receives a national grant for impoverished students worth 4,000 yuan annually.
The mathematical sciences major also receives 1,000 yuan a month from the school because his academic performance is so good that he has joined a special class established specifically to cultivate math talents.
His condition means he is unable to control his body, remain in a balanced position or hold a pen, and he speaks and writes much more slowly than his classmates. Despite those factors, he has never let his physical condition hold him back from his studies.
He always sits in the front row of the class, and has never been late, asked for leave or failed at any subject.
"I worked so hard to enroll at the university and received so much help from other people that I cannot let myself or them down."
The third-year undergraduate wants to continue his studies at the university by pursuing a master's in computer mathematics, a field closely related to artificial intelligence and big data.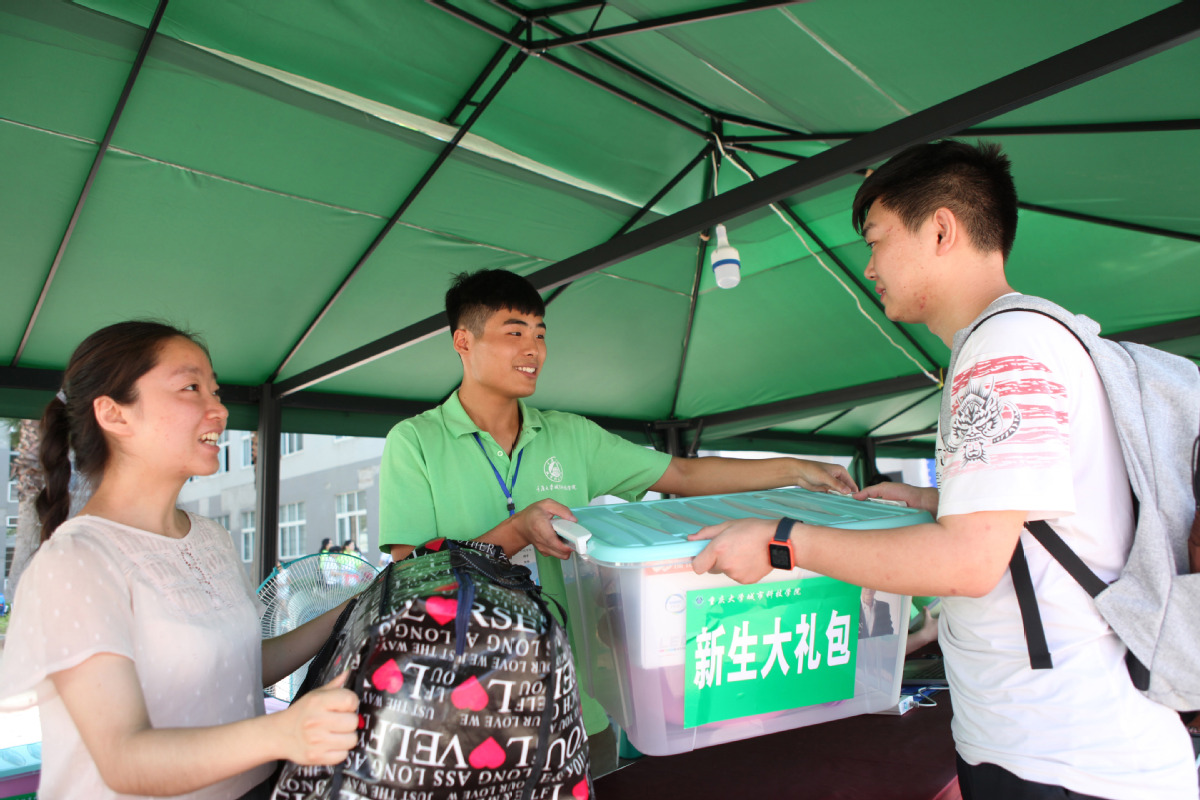 A freshman gets a gift pack, including subsidies and daily necessities, at the "green channel" at Chongqing University.CHEN SHICHUAN/FOR CHINA DAILY
New beginning
Xu Zhanlong, a poverty relief official in Xiahe county, Gannan Tibetan autonomous prefecture, Gansu, said that without the government-led financial aid system, many students in the county would have chosen low-paying jobs after, or even before, they finished their nine years of compulsory education.
Many families in the county have several children, and it is simply not possible for parents to support all their children to finish high school, let alone go to college, he said.
Therefore, like their parents, most children move to big cities as migrant workers or find work on local construction sites after they graduate from middle school, according to Xu.
"The county offers 15 years of free education, from kindergarten to high school, to all students from impoverished families, and local officials have made great efforts to persuade dropouts to return to school," he said.
After concerted efforts, the county's enrollment rate for kindergarten students reached 91 percent last year, and the rate for high school students reached 90 percent, both higher than the national average, he added.
Liu Chunlan, a first-year high school student in Xiahe, has received almost 6,600 yuan in government grants, which covers her tuition, lodging and living expenses.
Liu's mother has a condition that affects her spinal column, so she is unable to undertake much physical work. That means the family of four relies on the money Liu's father earns as a construction worker, farmer and truck driver.
Poverty forced both of her parents to quit education during primary school, and they are determined that their daughters will not follow in their footsteps.
"Even when I was very small, my parents told me that knowledge can change one's fate. I have studied very hard at school so my parents' hard work would not go to waste," Liu said.
"To support my sister and myself to go to school, my father will do any job he can find, and no matter how tired he is, he never complains," said Liu, who wants to study a medical-related major at college so she can become a doctor and help with her mother's illness.
During the summer vacation, Duan was preparing for the new semester and learning about her new students, Tang was busy in his dormitory cracking different math problems, and Liu was helping her mother with household chores after she finished her homework.
At one time, all of them would probably have become migrant workers like so many others in their villages. However, thanks to aid from the State, they can now choose a different path.
(China Daily 2019年9月2日 6版教育)