Xinhua February 28 , 2020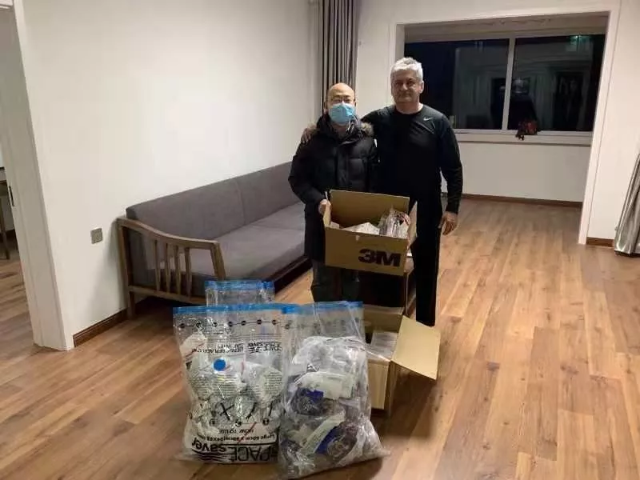 Anthony Que (R) donates medical supplies to the First Hospital of Lanzhou University. (Photo provided to Xinhua)
"I'm familiar with such emergency situations. I made concrete plans before I came here, and I do believe that China will get through it."
LANZHOU, Feb. 28 (Xinhua) -- Flying from Miami in the United States to the Chinese city of Lanzhou, Anthony Que brought with him three extra pieces of luggage full of medical supplies.
Upon arrival, the 54-year-old American who has been recently hired by Lanzhou University as an English teacher donated all the supplies to the First Hospital of Lanzhou University.
Two days before the flight, Que learned from a WeChat group that the hospital was short of medical supplies as it was combating the coronavirus outbreak. He immediately went all over Miami to buy 42 protective suits, 185 medical masks and 300 pairs of surgical gloves.
"It will be quite dangerous if doctors are infected," he said. "I can buy my personal clothing anywhere, but it's my top priority to buy as many professional medical masks as possible."
Though having been notified by the university that the new semester had been postponed due to the epidemic, the American did not change his plan. Instead, he arrived in Lanzhou ahead of schedule.
"I'm not scared of the epidemic, and I don't think it's a big deal as long as I follow prevention measures well," he said.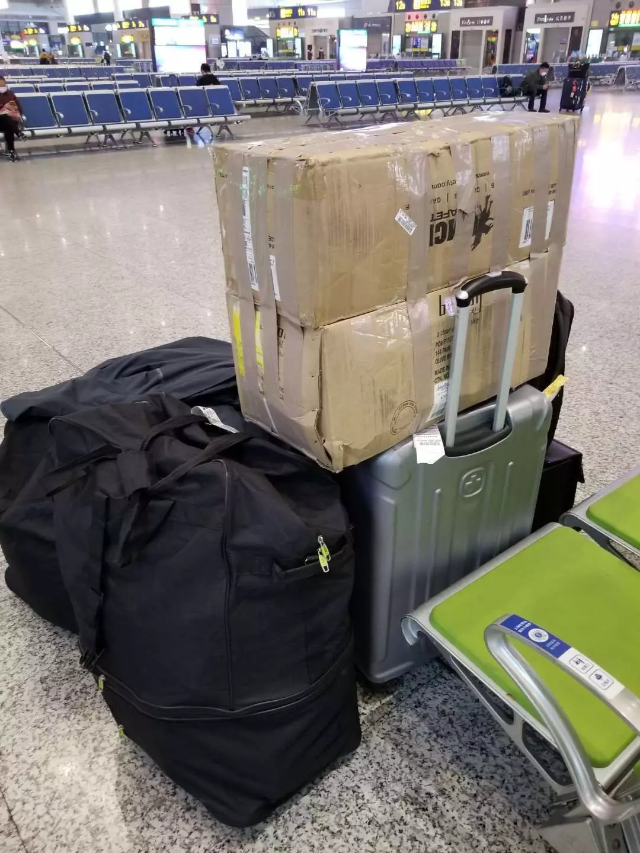 Photo shows Anthony Que's luggage full of medical supplies.(Photo provided to Xinhua)
Before coming to China, Que worked as a clinical pharmacist. Years of experience in the medical field has made him confident in China's victory against the infectious disease.
"I'm familiar with such emergency situations. I made concrete plans before I came here, and I do believe that China will get through it," he said.
Back in Miami, Que was a regular at a local table tennis club. There, he made a lot of Chinese friends who told him a lot about China and inspired him to start a life in the country.
Last November, after seeing a recruitment advertisement from Lanzhou University for a foreign English teacher, he immediately applied for the job and got it after an online interview.
Upon arriving in Lanzhou, Que was touched by the kind-heartedness of the Chinese. "Seeing me struggling with heavy luggage, passers-by were willing to offer me a hand, even though they knew that they shouldn't get close with strangers during the outbreak," he said.
Que was also impressed by China's efforts and determination to defeat the new virus.
"People across the country are ready to sacrifice their holiday and rush to the epicenter to join in the battle," he said. "And a hospital was built only in 10 days. I am quite amazed by China's speed."
He prepared a set of protective suits for himself and expressed his willingness to be a volunteer in the local hospital.
"If the hospital needs help, I would love to offer my service at any time," he said. Holding a medical license, Que said he could do simple medical help such as checking body temperatures and giving injections.
Though still under observation at his apartment, Que has already started his lessons.
"My colleague would buy me anything I need, and right now I'm busy with my online teaching," he said, adding that he also does indoor exercises every day to keep fit.
"It's not the end of the world. For me, it's just a small hiccup during my life journey," he added.
http://xhnewsapi.zhongguowangshi.com/share/news?id=408349592043520