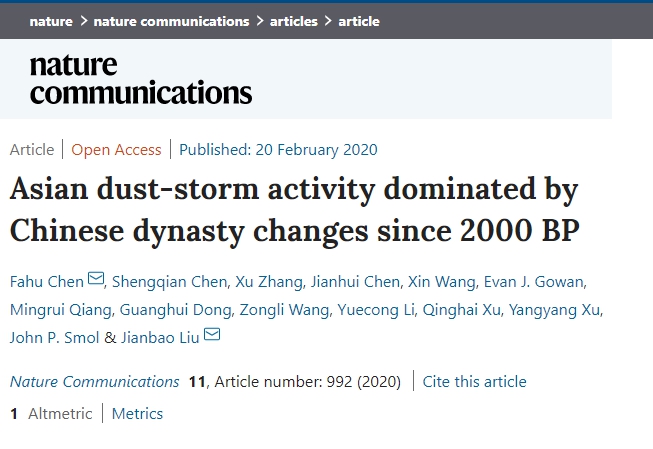 The paper entitled "Asian dust - storm activity dominated by Chinese dynasty changes since 2000 BP" was published at 10 a.m. on February 20, UK time (6 p.m. on February 20, Beijing time) in Nature Communications, thus offering scientific support for human activities and policy regulation on afforestation in arid and half arid areas in northern China. With the first author affiliation as Lanzhou University, the first authors as Academician Chen Fahu and Chen Shengqian, doctoral student of class 2018 in the College of Earth and Environmental Sciences, and the corresponding authors as Chen Fahu and Liu Jianbao, researcher of the Institute of Tibetan Plateau Research, Chinese Academy of Sciences, the research was funded by the National Natural Science Foundation of China.
https://www.nature.com/articles/s41467-020-14765-4
Translated by Xian Qinghong; proofread by Wang Shuangshuang and Du Yazun; edited by Li Chunrong.