By ZOU SHUO | CHINA DAILY | Updated: 2021-06-28 09:18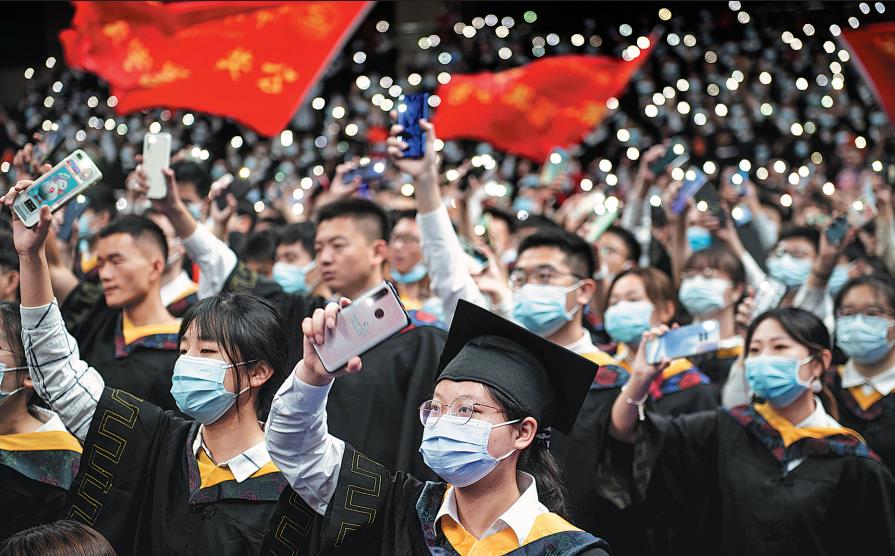 Undergraduates from the Huazhong University of Science and Technology celebrate at their commencement on June 21. REN YONG/FOR CHINA DAILY
Expanding access to learning, building world-class universities part of plan to become global education hub by midcentury
Editor's note: To celebrate the 100th anniversary of the founding of the Communist Party of China, China Daily is publishing a series of stories on the changes and developments in various fields and industries.
When Alu Shabu was 15, he considered dropping out of school after his father and uncle passed away on the same day.
Born in a mountainous village in Ebian Yi autonomous county in Sichuan province, the impoverished ethnic Yi family was left with only their mother to rely on.
Shabu had a younger brother, a younger sister and three cousins, and with his aunt leaving the family, his mother had to support the two families of six children aged between 5 and 16, by running a convenience shop.
He was in ninth grade at the time, and thought about leaving school to help his mother. He was dissuaded by teachers, who told him that he could apply for government financial aid when he got to high school. In China, education is compulsory for nine years from first to ninth grade.
Good grades gained Shabu admittance to a well-regarded high school in Mianyang city, and his tuition fees were exempted.
During national college entrance exams in 2013, he scored 645 out of a possible 750 and was enrolled in Beijing Jiaotong University. All his relatives pitched in to scrape together 3,000 yuan ($463.5) to help support the first college student in the extended family.
Aside from interest-free loans, which covered tuition and dormitory fees, he was also able to get scholarships, grants and subsidies, to meet his living expenses.
Financial aid
Shabu was one of the millions of beneficiaries of the country's financial aid system for university students.
China established the national system for impoverished college students, higher-level vocational students and secondary vocational students in 2007, and in 2009, the government pledged to "not allow any student to drop out of school because of financial difficulties".
In 2011, with support from schools, public donations and increased official investment, a government-led financial aid system was established to cover students from the preschool to the postgraduate level.
All students undergoing compulsory education-primary school to junior high school-are now exempt from tuition fees and provided with free textbooks.
Moreover, a multifaceted aid program has been established for college students, which includes national scholarships, grants and interest-free loans, school scholarships and grants, subsidies for students from impoverished families, meal subsidies and tuition fee reductions and exemptions.
Additionally, a "green channel" has been established to allow freshmen with financial difficulties to register at colleges or universities, by offering interest-free loans to cover both tuition and accommodation.
According to the Ministry of Education, a total of 773.9 billion yuan was allocated to impoverished students during the 13th Five-Year Plan period (2016-20).
According to the National Center for Student Financial Aid, a total of 131.7 billion yuan in financial aid was allocated in 2019.
Figures for financial aid rose for the 13th consecutive year in 2019, reaching 212.6 billion yuan, 4 percent higher than in 2018.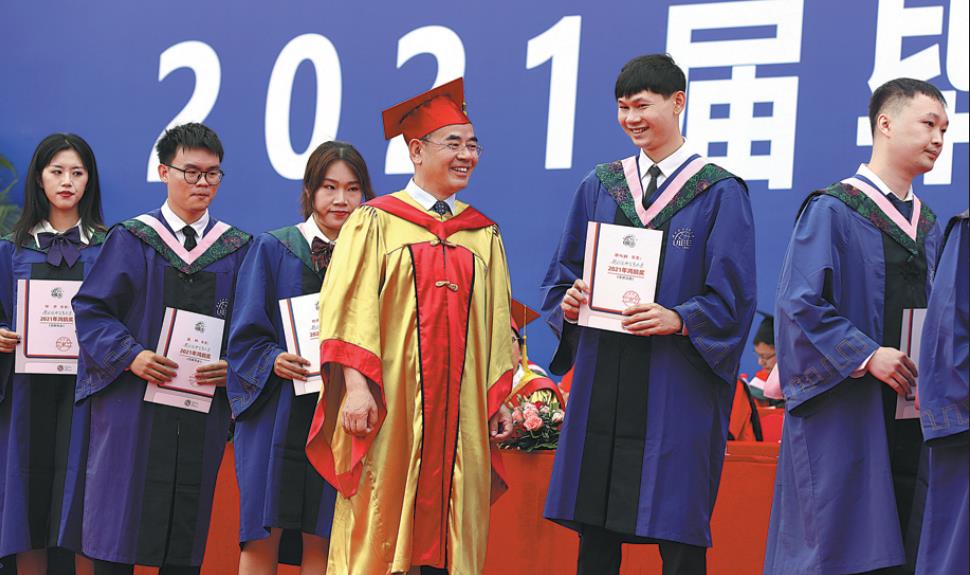 Graduates from the University of International Business and Economics receive award from Jiang Qingzhe (middle), university Party chief, on June 18. ZHU XINGXIN/CHINA DAILY
Changing fate
When Shabu entered university, he said he could not speak standard Mandarin, was nervous when he spoke publicly, and did not know how to use a computer.
He went on to conquer these difficulties through the determination to improve himself and with the help of teachers and classmates, and enrolled at the same university to pursue postgraduate studies, receiving a master's degree in industrial engineering in 2019.
"I was not born resilient, but hardship has taught me to embrace life with as much positivity as I can," he said.
After graduation, he turned down an offer to work at the Postal Savings Bank of China in Beijing and instead, chose to work as a grassroots official in Sichuan's Zhaojue county, a mountainous region much like the one he is from.
Shabu said that thanks to the concerted poverty alleviation efforts led by the Communist Party of China, mountainous regions have undergone great development in recent years.
"However, six years in Beijing made me realize the gap between the regions and the big cities in terms of economic development, education and living standards. I am willing to contribute to further improving mountainous regions, and possibly to changing the fate of other students."
Xu Lingdan, a senior undergraduate student at Lanzhou University in Gansu province, said she was able to pursue higher education as a medical student thanks to the national financial aid system. Apart from the interest-free loans, she also receives 3,500 yuan in subsidies every year.
Born in a small village in Zigong city in Sichuan province, Xu's family fell into poverty after her grandfather was paralyzed.
"My parents always encouraged my younger brother and I to study hard, and said they would stop at nothing to make sure we got as much education as we wanted."
Xu ranked first among the 82 students in her major, and was recommended for postgraduate studies at the university without the need to take a test.
She plans to become a doctor after graduation and wants to help more patients like her grandfather.
"I am a perfect example of changing one's fate through education," she said. "If I had not worked hard and been enrolled at a good university, I would have been a migrant worker like many of my peers in the village."
Abla Tumur, 27, who comes from a village in Aksu, Xinjiang Uygur autonomous region, now works at the China Construction Second Engineering Bureau Ltd in Beijing.
He was enrolled to study at Guangdong Zhaoqing Middle School in 2011 as part of the Xinjiang Class Program.
Launched in 2000, the program sends high school students, especially members of ethnic groups like Uygurs and Kazaks, to schools in more developed regions, with the aim of providing easier access to quality education and greater opportunities.
He was later admitted to Lanzhou University in 2015, and graduated in 2019.
The program provides students with subsidies for meals and travel, and at Lanzhou University, Abla was also able to get subsidies and an interest-free loan.
"Both of my parents are farmers and without the favorable policies of the Party and the government, I would not have had the opportunity to leave my village and see the wider world," he said.
As a probationary CPC member, Abla is expected to become an official member in July, just as the Party celebrates its centenary.
About 5.14 million impoverished students have received higher education since 2012, providing millions of poor families with their first college-educated generation, according to the Ministry of Education.
Addressing an international symposium on poverty alleviation through education in March, Vice-Minister of Education, Tian Xuejun, said that encouraging education is the foundation of poverty eradication.
He added that to help increase the prosperity of impoverished villages, China has implemented targeted education assistance, vigorously supported the educational development of poor areas, established a sound financial-aid policy system for students from poor families, and promoted the development of vocational and adult education.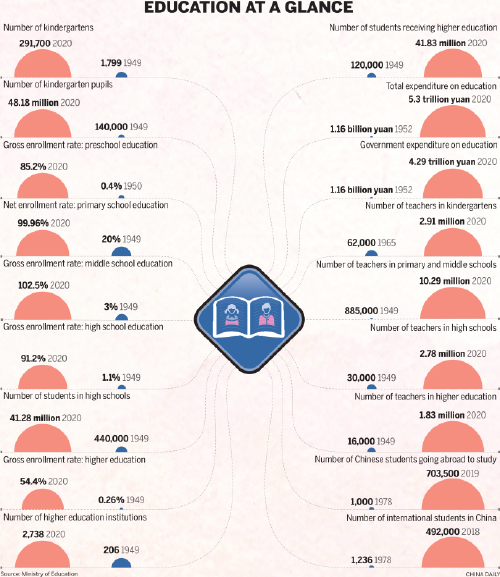 Positive achievements
Last year, China spent more than 5.3 trillion yuan on education, up approximately 5.65 percent from 2019, according to statistics released by the Ministry of Education. They indicate that about 4.3 trillion yuan, or over 80 percent of the total, came from government budgetary spending.
Around 1.4 trillion yuan was spent on higher education, up by 3.99 percent from the previous year. The country has made positive achievements in developing higher education, according to the National Bureau of Statistics.
Citing data from the seventh national census, Ning Jizhe, head of the NBS, said that education levels have continuously improved and that the number of people who have received or are receiving college-level education reached 218.36 million. This amounts to a rate of 15,467 per 100,000 people, an increase on the rate of 8,930 per 100,000 recorded in 2010.
The gross enrollment rate in tertiary education increased from 0.26 percent in 1949 to 51.6 percent in 2019, according to the Ministry of Education.
Hong Dayong, director of the ministry's Department of Degree Management and Postgraduate Education, said that 3.39 million students obtained master's degrees and 333,000 earned doctoral degrees in China during the 13th Five-Year Plan period (2016-20)
http: //www.chinadaily.com.cn/a/202106/28/WS60d9237da310efa1bd65e407_3.html