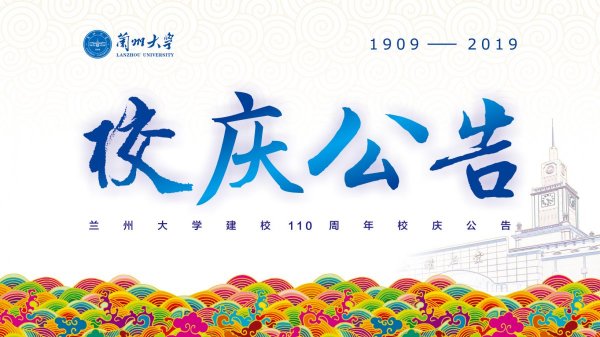 On September 17, 2019, LZU will celebrate its 110th anniversary. For this special time, we would like to extend our most sincere gratitude and respect to all teachers and students, and to the large number people from all walks of life who have been providing support for the university's future and development.
The 110th Anniversary is an important turning point for LZU to return to the beginning, reflect on the gains and losses, consolidation and innovation. With the theme of "persistence and struggle", LZU is going to launch a series of activities in the "110th Anniversary Celebration" in September, 2018. These efforts are to continue LZU's grand path, promote academics and the "double first-class" reinforcement. Therefore, we sincerely invite you from all walks of life to enjoy our anniversary together. We enthusiastically hope that alumni at home and abroad will reunite at the coast of the Yellow River and recall the friendship out of the old days. Let us work in unison to create a new era of LZU.
It is hereby notified the above.
Lanzhou University
May 15th, 2018
LZU Anniversary Office
Address: Room 206, Yifu Science Museum, No. 222 Tianshui South Road, Lanzhou City, Gansu Province, China
Contact number: 0931-8912721 0931-8912515
Fax number: 0931-8912721
E-mail: lzuxq@lzu.edu.cn
People in Charge: Qu Qianqian, Wang Yanhong
LZU Homepage: http://www.lzu.edu.cn
Wechat Official Account of LZU: iLZU1909
Wechat Official Account of LZU 110th Anniversary: lzu110
Lanzhou University Education Development Foundation
Contact number: 0931—8914092
Homepage: http://lzuedf.lzu.edu.cn
People in Charge: Kang Hongling
(Translated by Yang fan; proofread by Ren Yanyang; edited by Li Xingyi)